MEET STEFFI
Steffi is a lovely dark sable girl, possibly from working lines(?), of around 6 to 7 years old.  She was found, quite by chance, tied to a tree on Redhill Common, in a very secluded area and was obviously abandoned to die.  Initially very scared and apprehensive (and who wouldn't be after that!) she is now very relaxed and friendly with us.  She was microchipped in Sittingbourne, Kent in 2003 but the phone numbers given to Petlog are now unobtainable, so she is obviously unwanted.  She has served her 7 days and was going to be PTS today (30th March 2009), but she is safe now with us.  We are looking for a nice home for her where she will be loved and wanted for the rest of her days.  Obviously we do not know how she is with children and cats ,but she appears not to be aggressive with other dogs.
STEFFI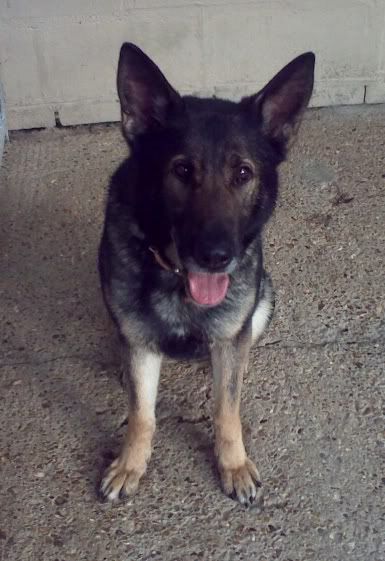 ---
 Sabre (who is enormous)approx 7 years, bi coloured longcoat,  super calm temperament and appears to be very good with other dogs, Sabre walks well on the lead and understand basic commands.
Sadly Sabre was diagnosed with a heamangio-sarcoma on Saturday 23rd May and had to be given sleep.
Rest well Sabre - we had you for such a short time but you were much loved and we miss you daily.
Sabre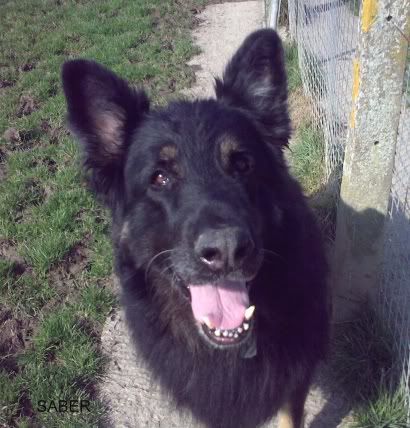 .
Please think about a rescue they have wonderful characters and desperately need a forever home.
Please give us a call if you think you would like to rescue a German Shepherd.
Phone Alyson on 07711 195318 for further details